The nation's largest independent telemedicine provider, Teladoc, experienced a 50% increase in demand for its services through March 20, 2020. As a result, patients are reporting lengthy wait times even as Teladoc adds more physicians.
This is a predictable outcome. As happens with many new technologies, traditional telemedicine replicates rather than leapfrogs existing process. Most telemedicine visits are virtual versions of face-to-face clinic visits with waiting rooms, real-time video conferencing/data entry, and follow-on prescriptions.
In contrast, Minneapolis-based Zipnosis offers an innovative, sequential approach for health systems. It is low cost, highly efficient and scalable.
Launched 10 years ago by CEO Jon Pearce, Zipnosis is a SaaS provider of white-label telemedicine software. Health system clients use Zipnosis as their virtual gateway for care delivery. As Pearce notes, "We started Zipnosis because we knew traditional telemedicine didn't have the ability to truly scale."
The Zipnosis platform automates triage, guiding patients to the most appropriate level of care based on their symptoms. A select number of conditions necessitate direct clinical attention via video, telephone or in-person. Roughly ninety percent of patients, however, receive care through asynchronous visits.
An asynchronous visit means that a patient, on his or her own time, answers a series of sequential interview questions. The Zipnosis platform transmits to providers who review patient answers on their own time. The providers then contact patients through the most appropriate channel to provide diagnosis and a treatment plan.
While real-time "synchronous" telemedicine visits take 18 minutes of clinical work time, a Zipnosis asynchronis visit averages just 89 seconds. This has enabled health system customers to
meet the surge in demand for virtual care. For example, a single physician using the Zipnosis platform in Seattle, WA, diagnosed 1,077 patients in a week (12 patients per hour for 12 hours per day for 7 days).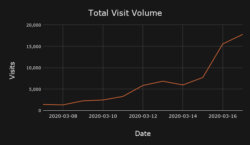 In addition to managing elastic demand, the Zipnosis platform adds new practitioners with ease. In the midst of the COVID-19 crisis, one health system client trained 600 new clinicians to use the Zipnosis technology within three weeks through YouTube videos.
The volume of patient visits handled by the Zipnosis technology has been breathtaking.
Zipnosis experienced a 3,600% increase in utilization across its platform in the first 11 days of the COVID-19 crisis. In March, Zipnosis logged 412,553 total visits, with daily volume surging as high as 36,000. 88.2% of those visits were asynchronous adaptive interviews, 3.4% text chat, 4.5% phone calls and 3.9% in-person video. Zipnosis was the highest capacity telemedicine provider in the country during March 2020, serving four times as many patients as Teladoc Health.
Zipnosis is helping to maximize clinician and health system capacity, minimize in-person contact, capture longitudinal data, and steer the most symptomatic or vulnerable patients to nearby labs for testing. Pearce observes,
"When people say they don't have enough doctors at a national level, that's simply not true. What they need are more efficient processes. We've now proven the power asynchronous visits have in handling astronomical patient volumes."
Better Data, Better Predictions, Better Resource Allocation
When the COVID-19 crisis hit, the CDC released guidance for assessing exposure risk. Zipnosis immediately updated its automated triage process with 11 questions that screen for COVID-19.
Currently, 33 of Zipnosis' 51 health system clients are screening for COVID-19 and 21 are offering free COVID-19 virtual visits. Following CDC guidelines, Zipnosis conducts as many as 21,000 daily COVID-19 screenings. Their asynchronous screening process takes 4 minutes.
The Zipnosis platform categorizes patients completing the 11 COVID-related questions into five risk groups. Of the 192,915 patients screened in March:
14% were asymptomatic/low risk with no need for an in-person visit or test.
7.5% were asymptomatic/high risk.
4.3% were asymptomatic but had exposure risk.
7.5% had a cough only.
66.6% were symptomatic.
This is valuable information not just for patients and care providers but also for policymakers combatting COVID-19. With the right analytics and tools, such data creates insights that can save lives and resources.